Welcome to Dimicator Schola – Historical Fencing in Hamburg. We offer courses on swordsmanship with sword and shield as well as other disciplines, based on historical sources. No matter if you are a history buff, inspired by film and video game heroes or looking for a new sporting challenge — here you have the opportunity to hone your skills in a dedicated training environment and under expert guidance. Please note that the standard language in class is German, but we are happy to help you out in English when you are new to Hamburg or just staying for a few days or weeks. Individual lessons can be held completely in English. Do not hesitate to get in touch with Cornelius to join us for a free trial month, either via e-mail or via Facebook!
News:
• We are featured in the October 2020 issue of sporting hamburg on a double page! Read it online here.
Changes and cancellations:
9 December 2023: No training because of a seminar event
15–16 December 2023: No training because of a seminar event
(alternative dates for training will be announced)
27 December 2023: No training because... 'tis the season!
For photos and videos from our training, follow us here: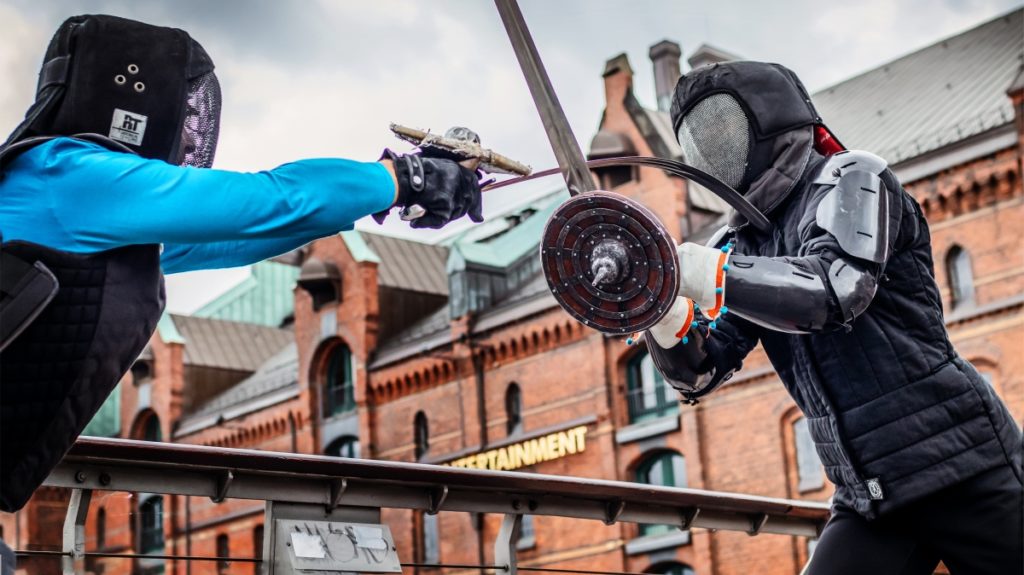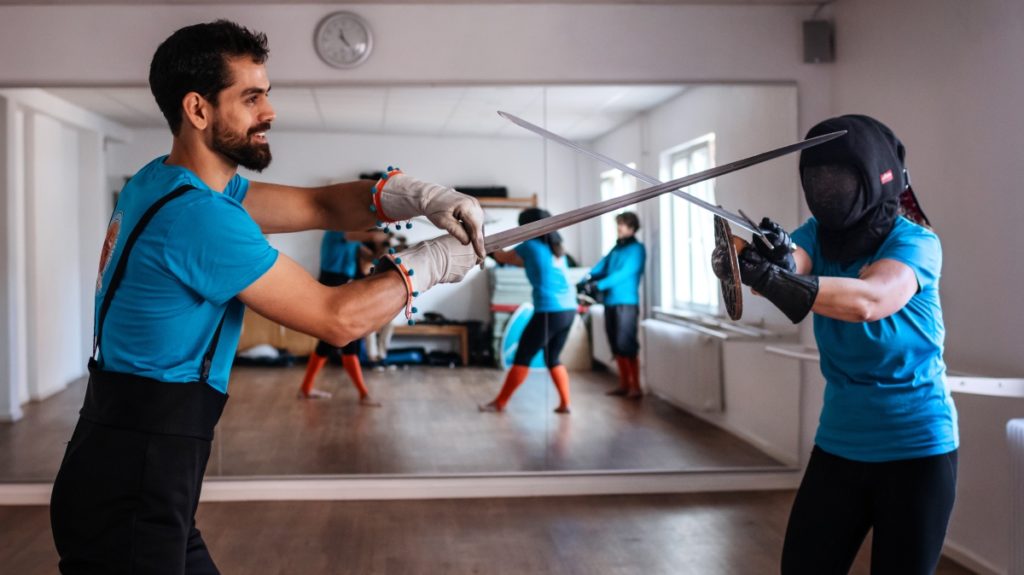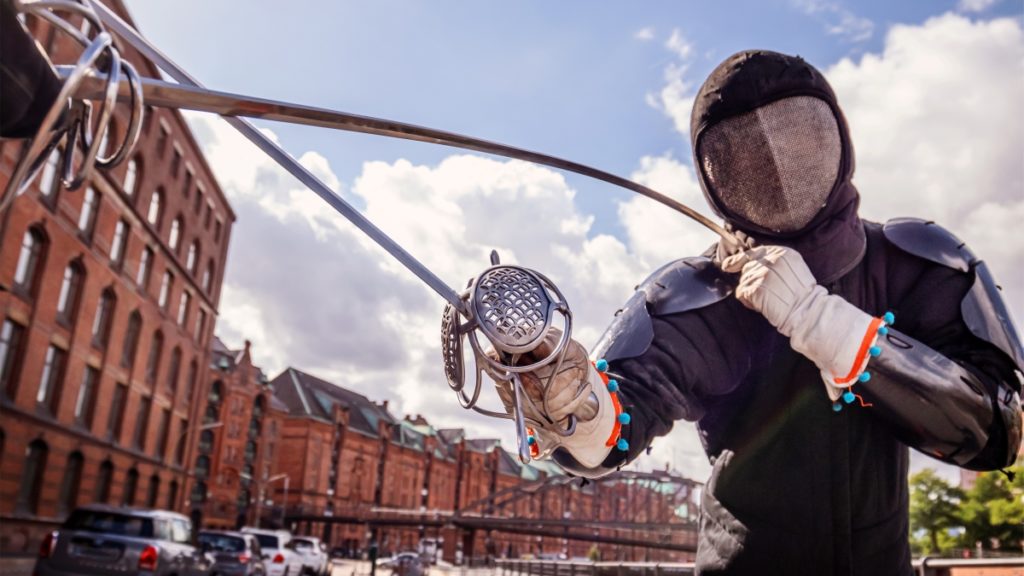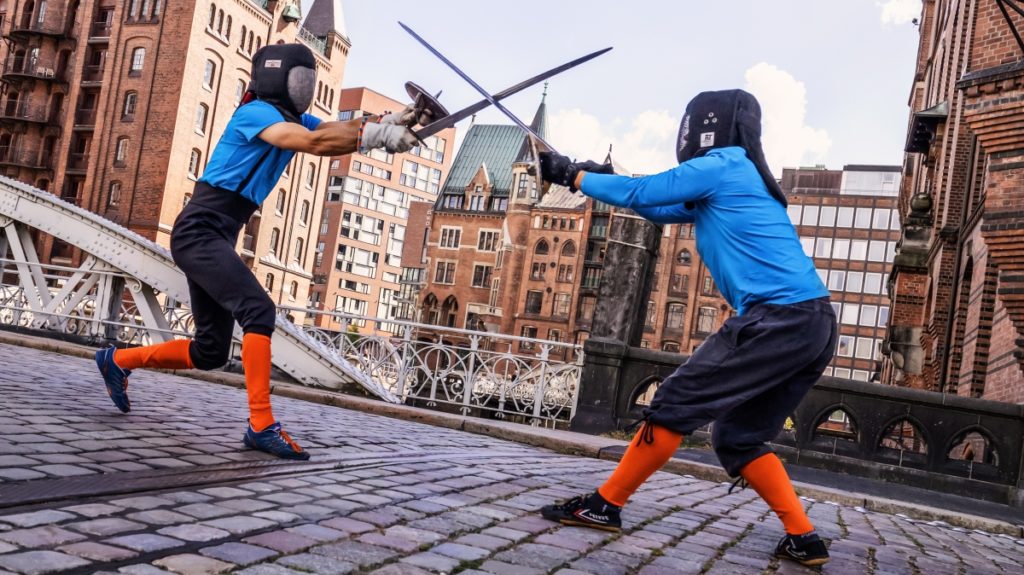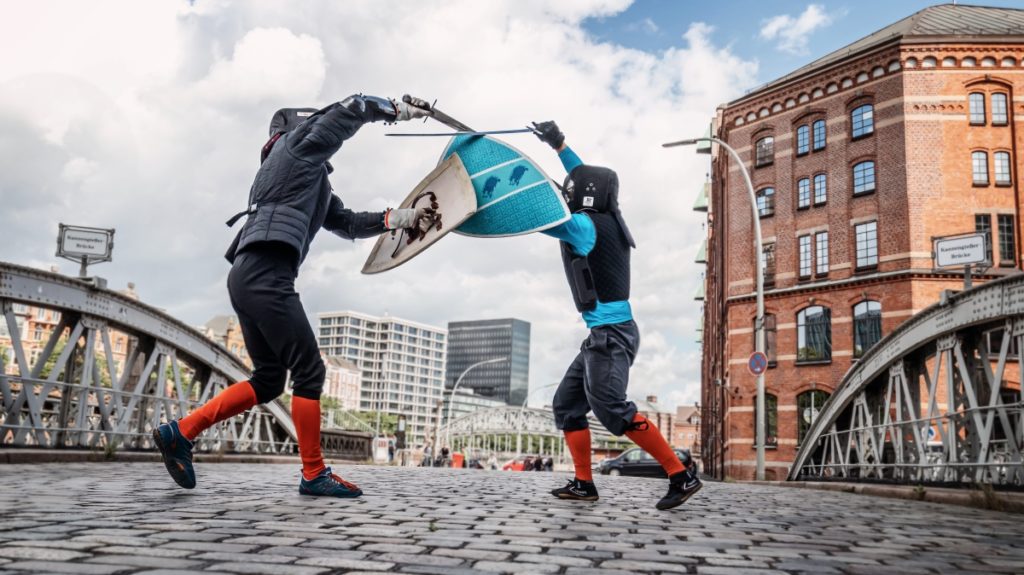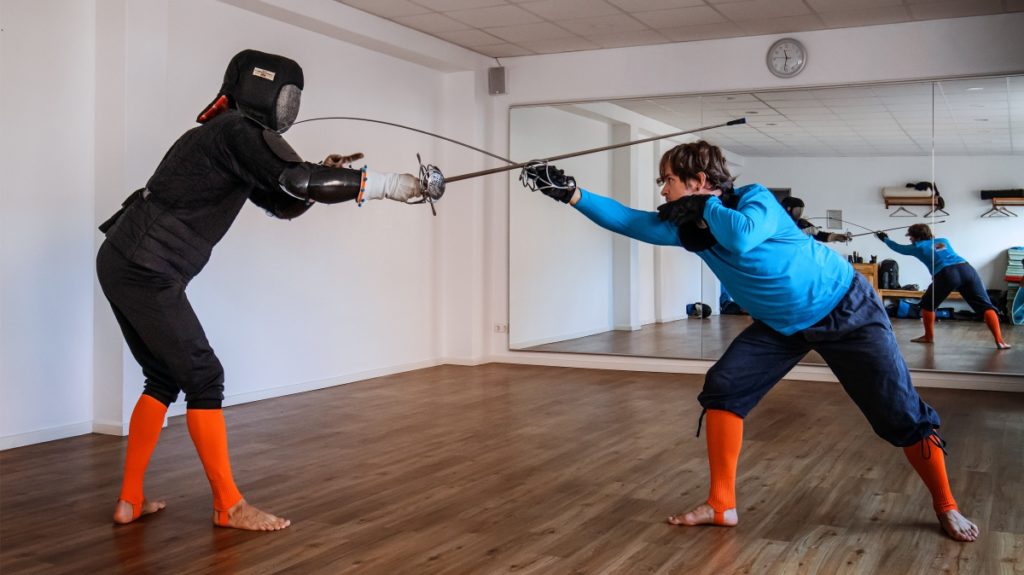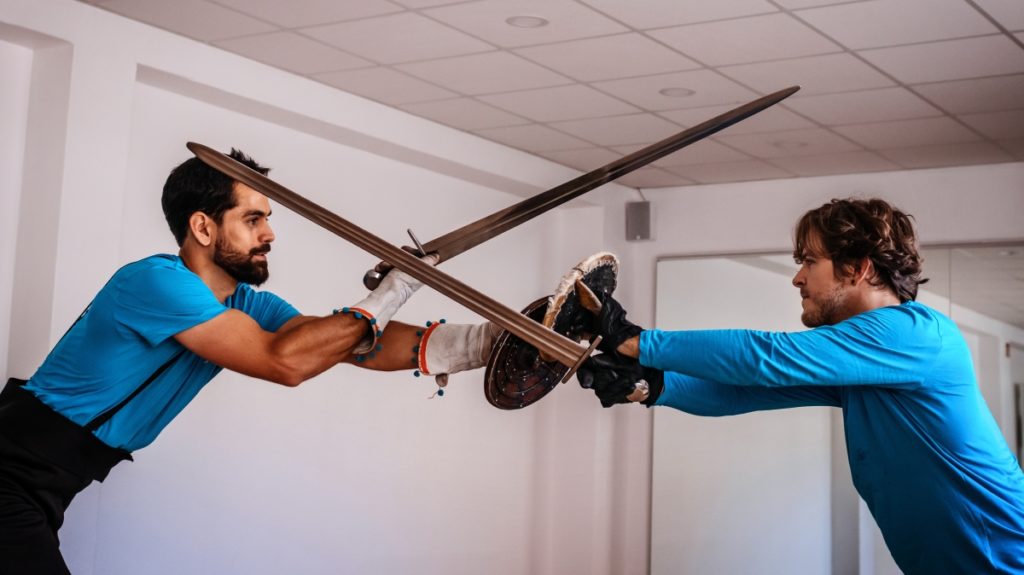 Historical fencing, often called Historical European Martial Arts (HEMA), describes the effort of bringing martial arts back to life that are no longer passed on in a direct line from teacher to student. Typically, we rely on so-called fight books which have been preserved in Europe since the 14th century. They may represent one or various close combat disciplines, both armed and unarmed, with or without armour. Our main source at Dimicator Schola is the oldest preserved of these books, which treats fighting with sword and shield.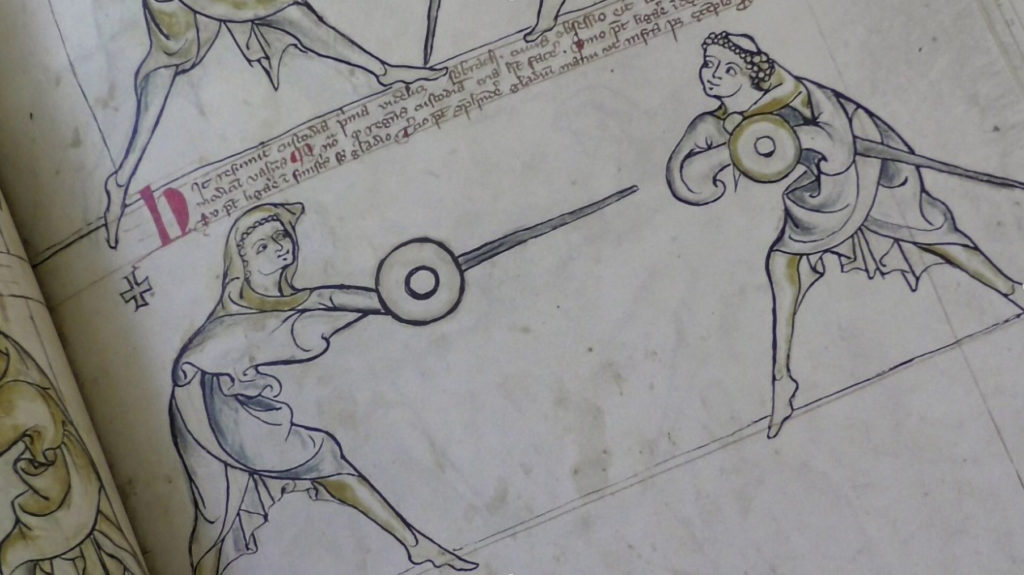 Wednesday
7–8 pm: Sword & Buckler for beginners
8:30–9:30 pm: Sword & Buckler for advanced students
Friday
7–8 pm: Sword & Buckler for beginners
8:30–9:30 pm: Sword & Buckler for advanced students
Saturday
10–11 am: Rapier for beginners
11:30 am–12:30 pm: Rapier for advanced students
1–3 pm: Free training, time for individual lessons (unless cancelled)
Training venue and schedule
Classes in the group are held in the practice room on the ground floor of Therapiezentrum Eilbek (Conventstrasse 12, 22089 Hamburg). The nearest underground station is Wartenau (line U1), the nearest urban railway station is Landwehr (lines S1 and S11). There is a small (!) parking lot in front of the building. Inside the Therapiezentrum there are changing rooms, toilets and showers. Individual lessons can be held according to prior arrangement.
You do not need any previous experience. Please do not hesitate to contact us if you are interested, and come by for a free trial month! The best date to join is always the first (or second) Wednesday, Friday or Saturday of the month, because we start a new topic then. After the trial lessons you can choose between different types of memberships. Training weapons are provided, so you only need sportswear (indoor shoes optional) and drinking water. Fencing masks and possibly other protective equipment are only necessary for the advanced level classes.
Hi, my name is Cornelius Berthold and I am Dimicator Schola's fencing coach and person responsible. I started Olympic fencing in 2004 (and still practise it!) and got into HEMA via medieval re-enactment fighting. I trained historical wrestling, dagger and long sword with the Blossfechter zu Chemnitz. There I also taught sword & buckler (according to MS I.33), military sabre of the 19th century (August Fehn) and Italian rapier of the early 17th century (Nicoletto Giganti). Since 2016 I have been fencing and teaching in Hamburg, most prominently at Dimicator. I hold a C-licence as a sports fencing instructor. My specialities are attention to effective and healthy body mechanics, precision and – this is not contradictory – playful exercises instead of dull repetitions.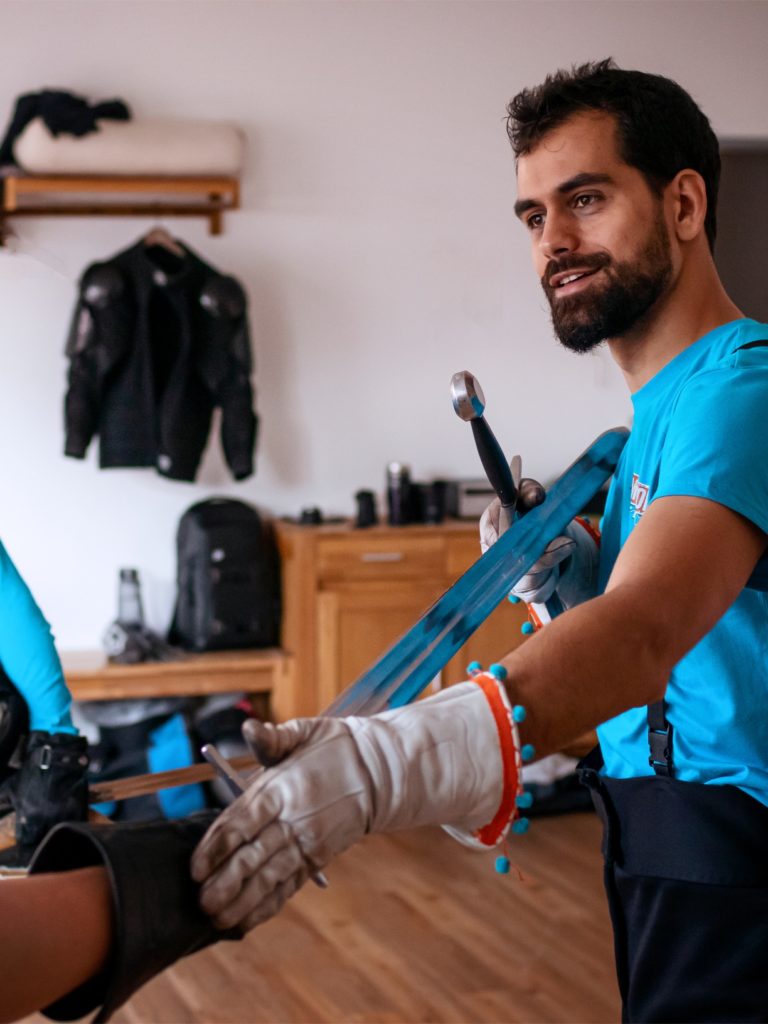 You cannot make it to our regular classes? Individual lessons are not an option either because you are already part of a merry company? In these cases, Dimicator Schola might be able to help you out with a seminar. Aside from short half-day seminars in Hamburg which we occasionally offer (see the top of our homepage for dates), Cornelius will also be happy to drop by your place to teach. Seminars can be short and sweet – such as a small contribution to a larger HEMA event – or come as compact all-day or all-weekend classes. The content of a seminar depends on your wishes and our capacity. Our main disciplines 14th-century sword & buckler and 17th-century Italian rapier can be chosen as well as some other fighting arts (e.g. longsword, 19th-century military sabre etc.). We also offer topic-oriented classes, e.g. training for children and teenagers, sword fighting beginner classes for groups of adults or theatrical/stage combat. If you are interested, get in touch and we can sort out the details. The prices for seminars are negotiable but are based on those for individual lessons.
What is the meaning of Dimicator and is there a difference between the Dimicator project and Dimicator Schola?
Do you practise sword fighting?
Basically yes, but nowadays swords or their replicas are used for a wide array of pastimes, such as reenactment or living history (e.g. reenacting Viking battles), fantasy role-play or stage fighting on the so-called medieval markets or Renaissance fairs. Historical fencing or HEMA focuses on the actual martial arts or sports aspect, but it can help with getting better in the other disciplines just mentioned.
What does an average training session look like?
We start with combat games and a mobilisation of our body. This is followed by footwork and fencing fundamentals like keeping distance or practising basic cuts. Then we focus on specific fighting techniques and their underlying principles. The exercises become more open and free until we move to various modes of sparring. We finish the session with some workout and stretching.
Are the swords sharp?/Are these real swords?
In the Schola we usually train with blunt training weapons made of plastic or steel, not sharp ones. Their construction and weight distribution is based on historical originals, but any simulator remains a compromise for the sake of safety.
Why are your shields so small?
These so-called bucklers appeared in Europe in the High Middle Ages at the latest; similar shields were spread as far as India. Their construction is reminiscent of earlier Germanic round shields, but they were only of minor importance on the battlefield. From the sources emerges the picture of bucklers as "civilian" defensive arms that were used in everyday life, for physical training but also in judicial duels (e.g. as described and illustrated in manuscripts of the "Sachsenspiegel", the Saxon Mirror law book). In the 13th and 14th centuries, countless buckler fighters—including animals and fantasy creatures—cavorted in the margins of illuminated manuscripts, which indicates the great popularity of this type of weapon. We also assume that the larger triangular shields were used in a similar way during this period. Buckler fencing would thus also be training for military fencing in armour.
What you do doesn't look like real sword fighting, just like friendly dancing!
Both the level of sophistication that can be found in the earliest fight books, and the often delicate nature of pre-modern bladed weapons suggest that well-trained fighters did not swing their weapons around as primitively as Conan the Barbarian or Game of Thrones actors (but of course they had to be able to handle such an opponent). If the sword movements have to be clearly visible to the audience, or if thrusts to the face are forbidden in a sports context, this changes the fighting style massively, without the result being more realistic or brutal. If we train slowly, move almost like dancers, and seemingly only carry our weapons through the air, it is to internalize complex movements, to maintain a healthy and effective posture, and because with the right technique, a weapon can be accelerated impressively effortlessly.
Does anyone even know what sword fighting used to look like?
Not exactly, but we are getting close. By researching our sources and drawing logical conclusions, we can exclude certain things, such as that the balanced and cleverly-made original weapons from museums were used like cudgels, or that a fencer performed pirouettes in a fight to the death. Basically, however, our work consists of constant research, experimentation, review and development of our understanding of the art, which leads us further and further towards how people in the past understood fighting.
I would rather learn a different weapons discipline or do something similar to HEMA. Should I come anyway?
Dimicator Schola offers tuition for other disciplines in its secondary weapons class, individual lessons and occasional seminars. Scholars may also gather to work on different material in the free classes. But aside from the fact that sword & buckler is a fascinating and challenging weapon combination in and of its own, getting a solid understanding of it can help tremendously. The reason is that martial arts principles can be found in similar forms all over the world; and especially the European traditions are closely related to each other. A good education in one discipline can therefore help a lot when trying to learn others. For example, the ability to correctly judge the distance to the opponent is needed even in LARP or reenactment fighting. And not least, Dimicator Schola emphasises healthy posture and body movements which can help a lot outside the fencing hall, e.g. when washing dishes, vacuuming or gardening.