Classes in the group are held in the practice room on the ground floor of Therapiezentrum Eilbek (Conventstrasse 12, 22089 Hamburg). The nearest underground station is Wartenau (line U1), the nearest urban railway station is Landwehr (lines S1 and S11). There is a small (!) parking lot in front of the building. Inside the Therapiezentrum there are changing rooms, toilets and showers. Individual lessons can be held according to prior arrangement.
You do not need any previous experience. Please do not hesitate to contact us if you are interested, and come by for a free trial month! The best date to join is always the first (or second) Wednesday, Friday or Saturday of the month, because we start a new topic then. After the trial lessons you can choose between different types of memberships. Training weapons are provided, so you only need sportswear (indoor shoes optional) and drinking water. Fencing masks and possibly other protective equipment are only necessary for the advanced level classes.
Wednesday
7–8 pm: Sword & Buckler for beginners
8:30–9:30 pm: Sword & Buckler for advanced students
Friday
7–8 pm: Sword & Buckler for beginners
8:30–9:30 pm: Sword & Buckler for advanced students
Saturday
10–11 am: Rapier for beginners
11:30 am–12:30 pm: Rapier for advanced students
1–3 pm: Free training, time for individual lessons (unless cancelled)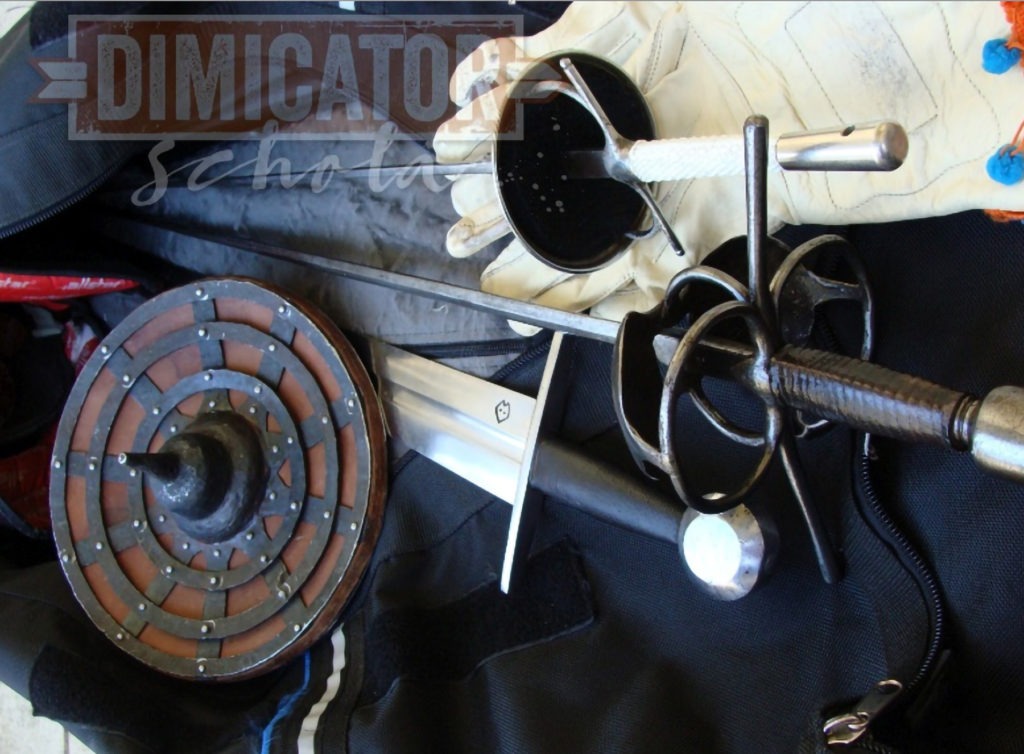 Fares and Membership Fees
Two-Classes Membership: € 35 per month (reduced fee € 25)
Three-Classes Membership: € 45 per month (reduced fee € 35)
Four-Classes Membership: € 55 per month (reduced fee € 40)
Six-Classes Membership: € 60 per month (reduced fee € 45)
You can attend as many classes (60 minutes each, after which there is some time for individual practising) per week as are included in your membership, the only limitation being that advanced classes are only for advanced students. For beginners we therefore suggest obtaining a two-class membership or a ticket of ten classes. The free training class on Saturdays is included in these memberships if it takes place (which is often the case but not always). Membership plans run for a minimum of three months and can be cancelled with a three month's notice. They can be upgraded or downgraded for every next month.
Other offers:
Single ticket of a group class (60 minutes or 120 for a free training class): € 15 (€ 12)
Ticket of ten classes of group training: € 120 (€ 110)
Individual lesson (60 minutes): € 50, specifics will be arranged beforehand; a discount will be granted for several lessons
Seminars (e.g. for clubs) from 50 € per hour plus travel and accommodation costs if necessary; specifics and prices will be arranged beforehand
Reduced prices can be found in brackets and apply to pupils (from 16 years of age and with a signed permission from their parents or custodian [in German only]), university students, trainees (no interns) and those having a gap year to work in the social sector (Freiwiliges Soziales Jahr). Special arrangements are possible.
All this information is subject to change and supplied without liability. Upon the conclusion of a contract, the stipulated conditions apply. The complete terms and conditions can be downloaded here and the rules of conduct here (both in German only). If you have any questions, please do not hesitate to contact me: cornelius@dimicator-schola.com
Curriculum and philosophy
Dimicator Schola focuses on fighting with sword and buckler, a small and often round shield that was particularly popular in the 13th and 14th century. We suspect that this popularity was partly due to the fact that armoured warriors fought similarly with their triangular shields during this period. Therefore, we also use the larger shields from time to time. Buckler fighting itself is more complex than many other disciplines because of the two weapons used in parallel, but if you have some experience in it, you can easily transfer this knowledge to other weapons. There are even many parallels to modern Olympic fencing. In Dimicator Schola, other martial disciplines are offered in our secondary weapon training, in seminars and of course in private lessons.
Our source material is historical, but the training methods are modern and safe. We strive for a training environment that is characterized by helpfulness, respect and tolerance. We learn and practise together; nobody is chastised for a slow learning process or making mistakes (unless of course they were caused by violating the safety regulations). Mistákes are useful, as they allow us to learn from them. When problems arise, we try to address them immediately and take both factual and human circumstances into account when solving them. We do not tolerate any discrimination against, or segregation of, any person or group of persons on the basis of race, color, sex, creed, national origin or ancestry.